SLOVCLEAN – premier cleaning company in Slovakia
We are always striving to perfect our services and professionalism
Who We Are
Our company has been operating on the Slovak market of cleaning services since 2005. We have been providing our clients from various fields with professional cleaning services for sixteen years. Our customers are large manufacturing companies, non-manufacturing companies, shopping centres, administrative complexes, hotels and hospitals.
Comprehensive cleaning, including specialized work, housekeeping and additional services – this is our portfolio, which we provide through eight regional offices throughout Slovakia. We currently work for more than 200 customers, look after 2,500 buildings and clean surfaces with an area of about 22,500,000 m2.
In the current pandemic situation, where the demands for cleanliness and disinfection of premises are higher than ever before, we have also started to increase the level and extent of disinfection of premises through a special, polymer disinfection.
Our primary goal is perfectly done work, which we can guarantee thanks to a sophisticated quality control system.
PROPERTY PROTECTION
Our clients entrust their assets to us, and therefore the protection of the client's assets is one of the most important attributes of our work. In the event of damage to property, we are covered by insurance of up to 1 million EUR.
Company values
Trust Trust is our highest principle.
The most important attributes of our work are trust, a responsible approach and a guarantee of the maximum protection of the property that clients entrust to us.
Personal approach We adhere to a personal approach to our customers,
with whom we are in constant contact. We try to respond flexibly to their needs and meet their individual requirements.
Continuous development We strive for continuous development.
Our goal is to provide comprehensive cleaning services at a professional level. We are expanding our portfolio of services, following new trends and paying attention to the high professionalism of our employees.
WE ARE ECOLOGICAL The topic of ecology is very important to us. We constantly monitor the latest trends related to our work. That is why we use modern ecological cleaning agents that are friendly to nature and, above all, to human health. You will feel clean and safe with us.
SOCIAL RESPONSIBILITY
Our company is committed to doing business responsibly. Social responsibility is mainly based on ethics and transparency. It connects business interests and activities with ethical values beyond the obligations arising from the law. Responsibility is based on a commitment to consider the impact of decisions on the whole society, and therefore in our business we strive for activities that contribute to sustainable development and value creation not only for us, but also for our clients. A comprehensive approach to responsible business which is supported by transparent action in relation to all partners and clients is important. An essential component of this approach is the implementation of common policies and principles of responsible business.
We are aware of the importance of environmental protection. Because we care about our and your future, we do business responsibly and think about how we make a profit. We are paying ever more attention to environmental protection, which is becoming increasingly important.
We are responsible for the performance of our activities and for the quality of services we provide to our clients. We use processes and resources with the lowest possible impact on the environment and human health. We help our co-workers reach their full potential.
We are a partner of the Children's Cardiocentre Foundation
Since 2017, we have been a proud general partner of the Children's Cardiocentre Foundation.
In that year, we entered as a general partner into a new philanthropic project of the foundation called ŽIJEM NAPLNO! (Live to the fullest!) The project, the only one of its kind in Slovakia, successfully and very effectively helps children return to form and more easily integrate after serious treatment and severe heart surgery.
Young patients require special care even after discharge from hospital, because they often suffer from psychomotor and neuropsychological development disorders as a result of treatment and various interventions. A group of therapists and special educators continuously educate young patients in the comfort of their home to catch up on school, gradually overcome the handicaps caused by the disease and be able to lead fulfilling lives as their peers.
The launching of the ŽIJEM NAPLNO! project finally brings a system of special care to Slovakia for children with heart disease after their discharge from hospital, something that is quite common abroad. The project is unique in that it unifies the monitoring of neuropsychological development, early intervention to strengthen it and also the provision of special pedagogical examinations and individual education into one.
SLOVCLEAN, as the general partner, provides the foundation with funding for therapists and special educators. Thanks to our continuous support and plan to support this project in the long term, the number of teachers and children is constantly expanding. Our goal is for the project to be able to provide assistance to as many small cardiac patients from all over Slovakia as possible.
the launch of the Žijem naplno! project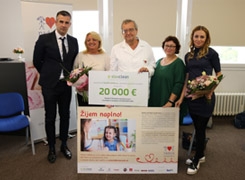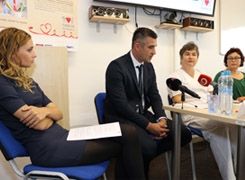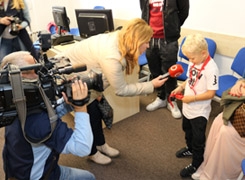 Martin Záhora – Chairman of the Board of Directors of SLOVCLEAN a.s., PhDr. Mária Kadlečíková – director of the Children's Cardiocentre Foundation, Prof. MUDr. Jozef Mašura, CSc. – founder of the foundation, PaedDr. Monika Stupková, PhD. – medical pedagogue and professional guarantor of the project Žijem naplno, Mária Čírová – ambassador of the Žijem naplno project, Doc. MUDr. Ľubica Kováčiková, PhD. – Chairwoman of the Board of the Children's Cardiocentre Foundation
They said about us

WE ARE THE WINNER OF SLOVAK BUSINESS SUPERBRANDS AWARDS
The commission of experts of the Brand Council, the Slovak Superbrands program, awarded our company the Slovak Business Superbrands Award repeatedly in 2018, 2019 and 2020. We thus belong to the group of elite brands, which represent a model of successful development and a constant increase of brand value. The SUPERBRANDS award is a confirmation of the quality of our company and a confirmation of clients about the right choice. We thank all our customers for their trust, without which we would not have received this award. We value it and it is also a commitment for us to continue to improve our services for you.
Slovclean Academy
We look after the education of our employees. In order for a company to move forward, it is necessary to take care of and regularly invest in the education of its employees. Only in this way can it be developed and succeed in a highly competitive market. We care about our people, so we provide benefits in the form of continuous education.
SLOVCLEAN ACADEMY is our internal educational system, which we prepared in cooperation with Avris Consulting. Training events and workshops for our employees and staff are focused on project management, improving communication with clients, performance management and many other areas. Our goal is to ensure the development of our people, increase their professional level and provide our clients the best possible services in this manner.
WE ARE A MEMBER OF ORGANIZATIONS
Our company is a member of the Slovak Facility Management Association
SAFM
. SAFM was founded in Bratislava in 2009. Its creation was a reaction to the increasing demands of the application of facility management in organizations and it is an administrator of the quality of facility management in Slovakia.
We are also a member of the international consortium of cleaning and facility management companies
CEJS
, which operates in the Central European region.
Since 2020, we have been part of the
DDD guild – professionals for rodent control, disinsection and disinfection
.